Best Cryptocurrency Affiliate Programs 2021
What is Cryptocurrency Affiliate Marketing?
Despite the pandemic, affiliate marketing was one of the most popular ways of earning passive income in 2020. Within that, affiliate programs for cryptocurrencies have seen huge growth. And with the meteoric rise of Bitcoin into the public consciousness thanks to Elon Musk's publicity more people than ever are buying, trading, spending and "hodling" bitcoin and other popular cryptocurrencies.
Before you dive into the world of cryptocurrency affiliate marketing, here are the top crypto affiliate programs of 2021, what sets them apart from the rest, and a few tips on how to maximize your profit.
Top Cryptocurrency Affiliate Programs
Paxful is an online peer-to-peer (P2P) over-the-counter (OTC) exchange platform where users buy and sell cryptocurrency. The platform functions mainly as an escrow service between the two parties.
Members of their affiliate program get 50% of the exchange fees whenever one of the customers referred through their link makes a transaction on the platform. You also receive a 10% commission whenever one of your second-tier affiliates makes a transaction on the platform.
For a platform that handles up to $25 million worth of transactions a week, this can sum up to a pretty decent amount with the right strategy. The key is to build a network of well-connected affiliates and earn money passively.
Cryptohopper is an automated trading robot that helps users trade across several crypto markets. You can let the bot do all the heavy lifting or set your strategy, test it with historical data, and watch your profits roll in while you sit back. 
Cryptohopper also offers one of the most lucrative affiliate programs of any trading platform. Affiliates receive a 10% commission over each paid Cryptohopper subscription registered by your affiliate. This amounts to $1.99, $4.99, or $9.99 per month depending on their subscription.
You also receive a 15% commission of the 10% commission coverage taken by the platform on each paid signal. Affiliates get other free bonuses like free promotional content and quick updates in the world of cryptocurrency and crypto market trading. For further information on cryptocurrency and automated trading bots how they work and a feature comparison of others in the cryptosphere see "20 Best FREE Crypto Trading Bots for Binance, KuCoin" that breaks it down nicely.
It seems the days of cryptocurrency acting as a tax-free haven for crypto investors have finally come to an end. With the IRS finally rolling out its official policy on crypto taxation, many investors have been left confused by terms such as "gains", "taxable events" and "cost basis". 
Most people just want to know how much they have to pay to keep the IRS from charging them with a Letter 6173. That's where CryptoTrader.Tax comes in. This is a top-notch crypto tax calculator that saves users the hassle of having to navigate through the murky waters of crypto tax.
They also offer the best affiliate program in the crypto tax calculator industry. Once a user registers on the platform through your link you receive a lifetime commission of 25% of whatever they pay to generate their tax reports. You can request for payments every 30 days.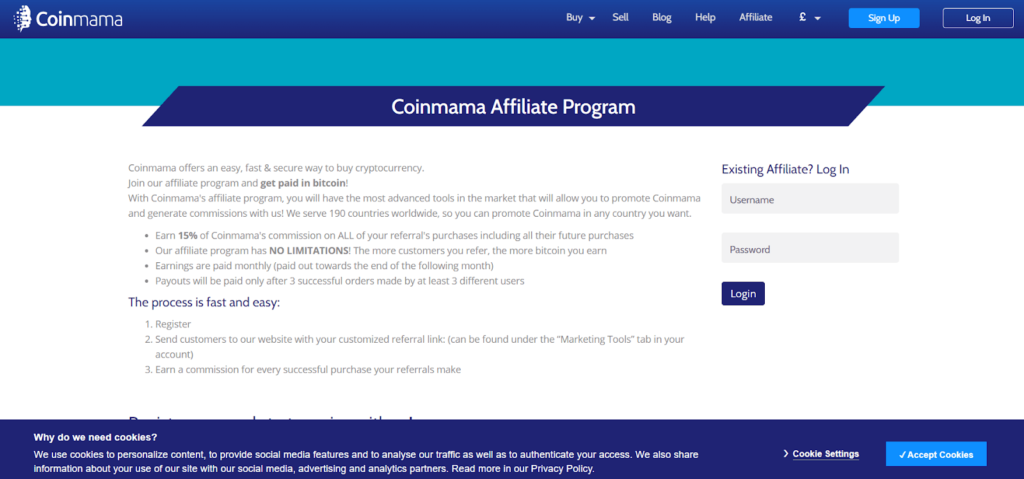 Coinmama is easily one of the most recognizable names on this list. The digital currency exchange platform was founded in 2013 and has since grown into one of the most popular platforms for buying and selling digital currencies directly.
One of the strategies they used to become such a powerhouse in the industry was their awesome affiliate program. Their affiliate program offers a generous 15% commission on all trading fees from referred customers.
This may sound low but this commission is paid out over a LIFETIME. This means you continue making passive income as long as the customer has an account on Coinmama. For a company that caters to over 2 million users in 190 countries, that can add up to a lot of money over time.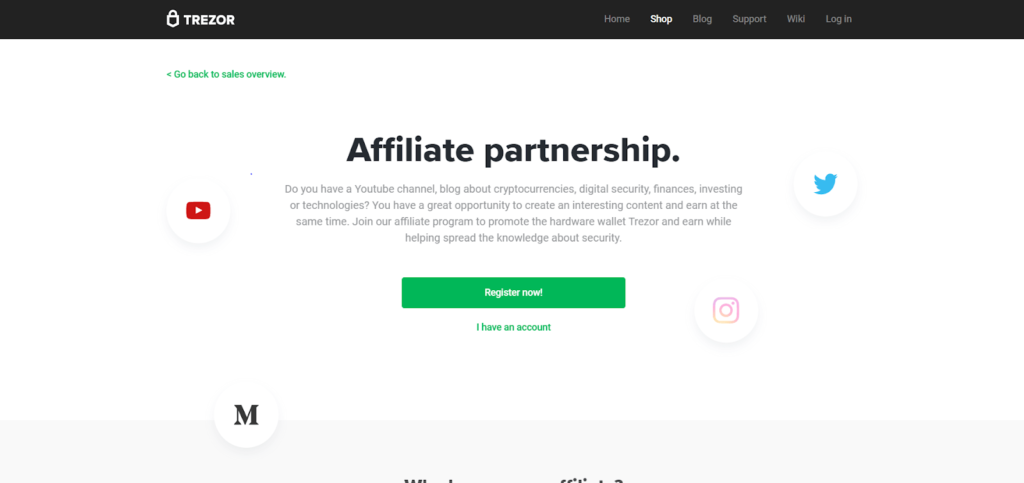 Trezor is one of the leading brands when it comes to hardware wallets. Hardware wallets have the added advantage of greater private key security, immunity to viruses, and potentially dangerous software, and an easier recovery process.
The company offers a 12-15% referral commission for each sale made through your link. This is paid out every month. Another great feature is that they offer payments in both wire transfer or cryptocurrency, giving you a flexible payment structure.
They also offer you tons of promotional material like banners, texts, and videos. With 24/7 access to detailed reports on your referral campaign and a dedicated team to help you out with any hiccups.
One of the most recognisable brands in the crypto industry Coinbase has a great affiliate program for those looking to get into the world of cryptocurrency.
Commission time period: First 3 months after a user signs up.
You will and your referral receive $10 worth of Bitcoin (BTC) for each signup and deposit of over $100 completed with in the first 3 months (180 days).
How to Maximize Your Profit
When it comes to cryptocurrency affiliate marketing there are several key tips to make sure you get the most out of each customer:
Choose the right company or brand to partner with.
Use social media and niche influencers to reach out to a wider customer base.
For pyramid scheme affiliate programs always build a strong network of proactive members.
Use promotional materials from the company to attract referrals.
Optimize your product pages to encourage more conversions.
Look for affiliate programs with flexible payment options.
Choose lifetime affiliates with a lower pay-out over temporary affiliates with high commissions.
Leverage affiliate promotions from as many sources as you can.
In conclusion, the world of digital currency is fast evolving with billions of dollars changing hands every day. Affiliate marketing is a great way to tap into this market and make passive income for life. The market is ready, are you?
Visit theaffiliatemonkey to compare hundreds of affiliate programs across industries and see which affiliate programs fit you best.