Best Travel Affiliate Programs of 2024
Travel and tourism contributed $2.9 trillion to the global GDP in 2019, with the United States alone taking over one-sixth of this sum. We found the Best Travel Affiliate Programs of 2024. With a larger number of bookings and trips being planned by online companies, a lucrative travel affiliate industry has cropped up to advertise these services.
These online agencies handle everything from flights to accommodation and even allow you to plan your entire visit with the click of a button. Let's take a look at some of the best travel affiliate programs of 2021, and what you should look out for before choosing the best affiliate program for you.
Booking.com is an online travel agency that allows you to book reservations from the comfort of your home. It was founded 24 years ago and has its current headquarters in Amsterdam.
The platform also has a great affiliate program that operates through the travelpayouts affiliate network. They offer a tier-based reward system which is calculated based on the number of stayed bookings per month. Here is what it looks like:
0 – 50 stayed bookings gives you a 25% commission
51 – 150 stayed bookings give you a 30% commission
151 – 500 stayed bookings give you 35% commission
501 or more stayed bookings give you a 40% commission.
The platform provides you with promotional banners, offer search boxes and deep linkings, as well as other promotional support materials. The minimum pay-out is €100, which can only be withdrawn through PayPal. Currently, Booking.com does not offer cookie tracking which should be a consideration when weighing up this brand. People often take time searching for their holiday and whilst they might initially click through your advert to see the holiday or deal, it's unlikely they'll book straight away, which means you'll loose the referral fee.
What started as the brainchild of two roommates trying to make ends meet back in 2007 is now the biggest rental online marketplace in the world with over 4 million homes listed in 191 countries. The platform allows you to advertise and rent out your property temporarily to guests and receive a commission for this service. They have a two-pronged affiliate program and a very generous referral program.
The Host affiliate program allows you to advertise Airbnb hosting opportunities on your platform. You will be paid a commission for every visitor who signs up as a host through your link. They also have a guest affiliate program which gives you the right to post any Airbnb listing on your platform. You will be paid a commission for every booking made through your link.
The major downside is that the program is mainly for high volume sites with over 1 million monthly visitors. However, they have a generous referral program that's open to everyone and offers up to $72 for each successful referral and about $5000 travel credits for each account.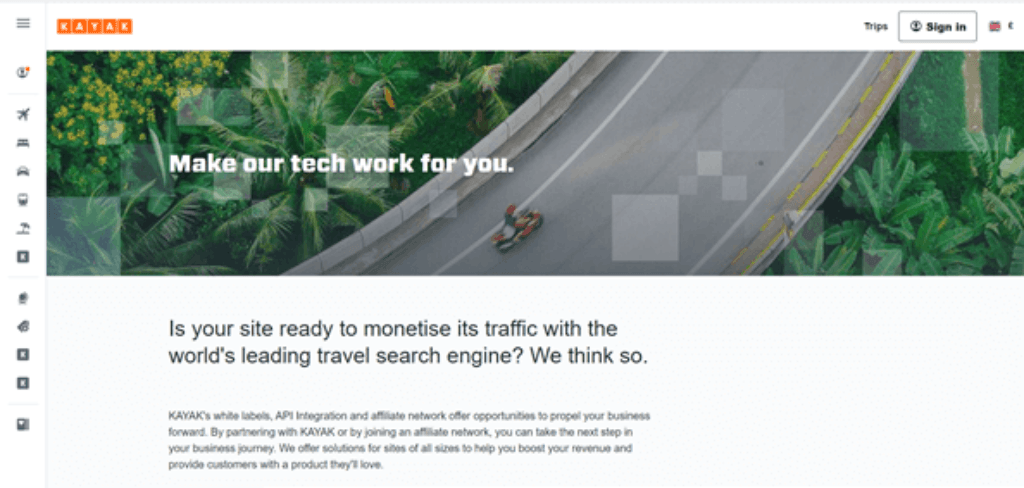 KAYAK is a travel agency and metasearch engine which was founded in 2004 and is a subsidiary of the larger Booking Holdings company. They offer their services in over 30 countries and their website and mobile app support over 18 languages. Now let's take a look at their traveling affiliate program.
KAYAK offers one of the most generous affiliate programs available. You can earn up to a 50% commission every time a customer books a flight through your link. However, there is a catch. The cookie length is only 30 minutes, so you forfeit any purchases made by the customer 30 minutes after they use your link.
To register on the program all you have to do is open a Travelpayouts account and register through there. Verification typically takes about 2 days but after that, you will be provided with promotional links, banners, landing pages, bots, and much more to help increase your conversion rate.
This is another platform that allows users to book flights at competitive rates. It started in 2003 as a website where users could compare flight prices and has now grown into a multi-national company that caters to over 100 million people a month.
The Skyscanner affiliate program allows you to earn up to a 50% commission on every flight booked through your link. The program starts you off initially at 20% of the revenue generated by Skyscanner, not booking or basket value.
Once you sign up with the program you will be offered three types of promotional tools to help you increase your number of clicks and conversion rate. These include travel search widgets, banners, and text links. You can also request white label products or API if you're interested. Not only this but Skyscanner offers a sub-affiliate option in which you are able to earn commission from fellow affiliates you sign up.
Things To Look Out For When Choosing a Travel Affiliate Program
Their commission. Obviously, you should look for affiliates who offer you the best rates and commissions per conversion.
Cookie length. Affiliates with longer cookie lengths allow you to earn more for each customer you refer to their site.
Promotional support. The best affiliate programs also provide you with promotional materials to help improve your conversion rate.
Reputation and user feedback. Only join programs that have a positive reputation and avoid those which have attracted a lot of complaints from their affiliate partners.
Minimum payment. A low minimum payment means you can cash out your earnings as early as possible.
Expedia is one of the largest travel brands in the world, offering more than 500 airlines, 1 million hotels, and properties across 200 countries. Many travel products are available through this affiliate program, the largest in the industry.
For affiliates, it's a great way to earn more revenue by promoting one of the best flight affiliate programs. Moreover, Expedia travel affiliates have access to various marketing materials for earning commissions on bookings, including banners, text links, and product feeds. In the Expedia affiliate program, sales types are rewarded with different percentages. After the sale, you can earn between 2% and 6% of the sales.
Key Features
Commission – Up to 6%
Cookie – 7 days
Payout Method – Bank, Wire Transfer, Check, and PayPal
Payment Threshold – $50.
There are dozens of great travel affiliate programs for you to partner with. If you own a travel or lifestyle blog this may be a great way for you to also increase your passive income. However, remember to keep all the above tips in mind before choosing the right affiliate program for you. Another attractive aspect is that travel affiliate programs tend to offer a mixture of commissions structures for example CPC, CPL and of course CPA.
To compare hundreds of affiliate programs, visit our homepage and compare hundreds of affiliate programs and see which affiliate program fits you best.