The Ultimate 14 Affiliate Networks 2024
The affiliate marketing industry is one of the fastest-growing industries globally, offering ample opportunities to make money in almost every space and industrial sector. At over 12 billion dollars and growing, it is one of the most increasingly lucrative ways to make money online. Thats why we've made the The Ultimate 14 Affiliate Networks 2024.
Many websites, blogs, and other spaces on the internet see a lot of traffic and resulting revenue flowing in and growing yearly. This is because of the increased accessibility to the internet. It is a way for many affiliate networks to make money off their viewer's intimate relationships with their favourite websites, blogs, and other online content. It is also an excellent way for you and many other content creators to earn passive income online through these affiliate programs made available to you via these networks.
The first thing you want to do to get on this trend is to sign up for an affiliate network.
What is an affiliate network?
An affiliate network is a service provider that connects affiliates, also known as publishers, such as website owners, bloggers, and influencers, to companies looking to promote their products. These networks offer resources that would assist the publisher in promoting thousands of products and earn a commission for doing so. An affiliate network is a marketplace for affiliate programs. Think, Amazon, but for affiliate programs.
Is joining an affiliate network necessary? If so, why?
Affiliate networks expand your reach and connect you to thousands of brands. It is the easiest way to monetize your online content and earn passive income. Some other benefits to joining an affiliate network include:
They make payments easier.
They choose products and services that cater to your friendly (the area of interest of your content/audience).
You get access to analytics and reporting tools to track your progress.
Now is the best time for you to step into the affiliate marketing world and the opportunities it brings.
This article lets us discuss some of the most popular affiliate networks and their attributes and find which one best suits your niche. We'll analyze them according to many factors, such as their reach, the number of publishers and brands on their platform, and the variety of brands they cater to.
The Ultimate 14 Affiliate Networks 2024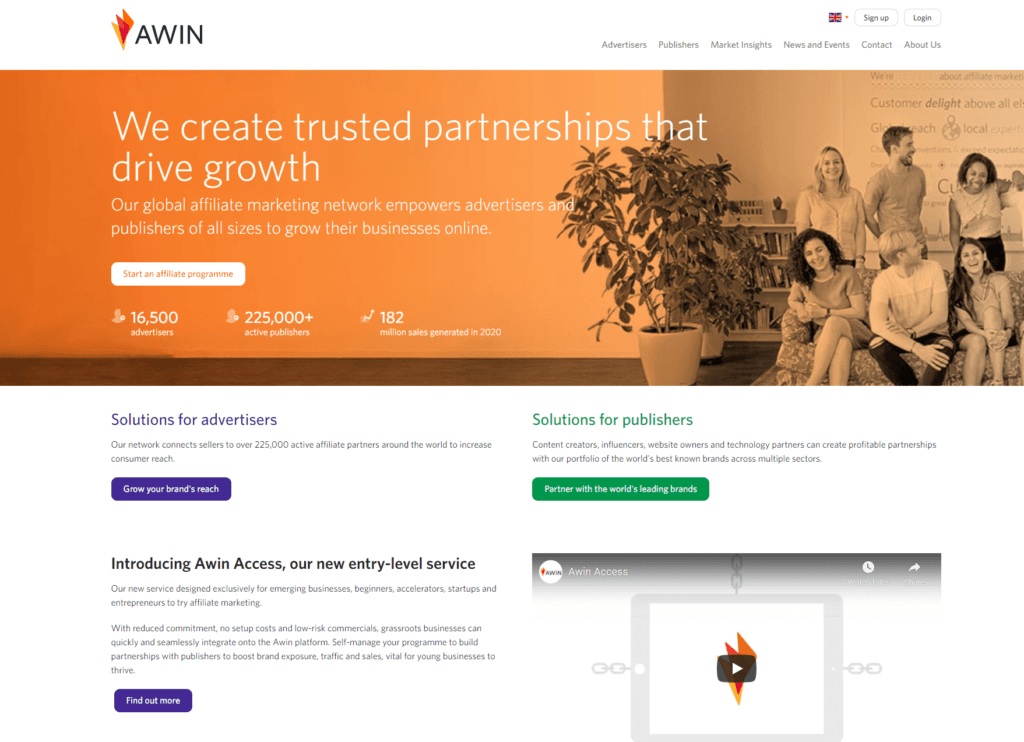 According to their page, Awin is a global affiliate marketing network comprising the Affiliate Window and Zanox networks. It caters to advertisers, affiliates, and publishers for different kinds of business around the world. According to their website, their platform has a network of over 225,000 affiliate partners around the world. They recently launched a new service for beginners called Awin Access which offers services to small businesses and allows them to manage their brand to build exposure, traffic, and sales. It's a good platform for small brands to build partnerships.
Awin is owned by parent companies Axel Springer SE and United Internet Groups. They are on a mission to connect advertisers and affiliates of all sizes, providing a user-friendly platform for vendors and publishers to connect, interact, and profit. Their products are divided into four significant niches: Retail and Shopping, Finance and insurance, Travel and Telecommunications, and Services. Each of these categories is divided into a myriad of sub-categories.
As a marketplace, their portal is ideal for website owners, content creators, influencers, and technology-based partners to advertise their products and create profitable networks. It is also a desktop affiliate network, meaning that it connects affiliates with affiliate programs that enable them to promote a desktop-related offer instead of a mobile one. This is a highly profitable niche, and affiliates can earn quite a good amount from such marketing. In addition, to making the affiliate's job easier, Awin provides tools such as a link builder and a convert-a-link option. The link builder enables you to build links to track any page on Awin's advertiser's websites.
In contrast, the convert-a-link is a plug-in that automatically converts regular links that you can use to link products on your website into affiliate tracking links. This works even if you're not an affiliate of a particular product but link to a product on Awin, and you get to earn from this as well, as long as you're approved, of course. Some of the companies they partner with are Marks and Spencer, Aviva car insurance, BT broadband and mobile, and thousands of others.
Another example is the Swedish-based company Tradedoubler. They were initially founded as Netstrategy and have been functional since 1999. They were listed on the Stockholm stock exchange in 2005. Their focus is on providing more innovative results for both clients and affiliates through technology.
As a company that has lasted for over 18 years, they give all indications of being a solid favorite among affiliates. They currently have over 180,000 publishers and over 2000 advertisers. Their sprawling reach across Europe makes it easier to receive payment, regardless of their location. On its website, Tradedoubler says that publishers can be paid in the country's currency in which they operate.
To combat the problem of cookie tracking when turned off on customer's browsers, Tradedoubler has developed technology to track affiliate sales even when the browser has cookies turned off. More and more merchants are getting on board with this program, allowing publishers to get every commission they deserve. Merchants working with the Tradedoubler affiliate network include big names like HP, Philips, The Body Shop, and many more.
ShareASale is one of North America's largest affiliate marketing networks. Established in the year 2000 and acquired by Awin in 2017, they have over 225,000 publishers and 16,550 advertisers. Like their parent company, they have a self-service tool for merchants, and they boast a user-friendly website interface with real-time notifications and program insights for affiliates.
They offer merchants and affiliates an opportunity to monitor their performance through charts and customizable reports. New products are added to the catalog every day, allowing publishers to find products to promote for any of their content without any issue at all, making it a precious resource. This feature makes it a favorite among reviewers. The website's user interface is easy to navigate, getting rid of any issues publishers might have trying to find the information they need, which is imperative for publishers who want to devote their time to creating content. They also give access to affiliate managers, a significant feature for affiliates who might wish to negotiate commissions. Some prominent brands they work with are Buzzfeed, news giants CNN, Meredith, CBS interactive, NBCUniversal, etc.
Adtraction is a relatively young company, set up in 2007 in Stockholm, Sweden. Since then, they have expanded their services to Spain, Finland, the U.K, and Switzerland. They are a Europe-based network with over 90,000 affiliates and over 1200 advertisers, and they are one of the largest in the Nordics when it comes to revenue and number of clients. They cater to advertisers from many industries like Tyres.net, Yordex, Forbes and Lewis, Lakeland, etc.
Adtraction has a very easy-to-navigate website, a feature of their user-friendly interface. Their affiliate accounts are created at no cost, and you get to choose which brand you want to work with as they offer a wide variety of different advertisers from different industries. Reviewers have praised their quick processing of applications which speeds up the process of approval. There are detailed guidelines in the form of Frequently Asked Questions and step-by-step instructions. This makes it easy for affiliates who are new to the game to get up to speed.
Affiliate marketing engages in the art of discretion and subtlety as bombarding customers with content is the best way to chase them away. Adtraction enables subtlety through the customizing of links. This means that you can alter the text to better fit in with your content. As a result, you can streamline your advertising to make it more organic.
Their brand partners are Ahlens, Bubbleroom, Kicks, Cervera, Lendo, Stylepit, etc.
Some of the tools available in this network are Adtraction's Google Ads integration and Adtraction's product browser.
Rakuten advertising, the affiliate program under Rakuten, was formerly known as Rakuten Marketing. It is a world-known affiliate marketing service provider. In 2005, Linkshare was sold to Rakuten for $425 million. Therefore, it became a division of Rakuten, which has given Rakuten the depth that it has in the affiliate marketing sector.
Rakuten houses a few of the most experienced experts who, through knowledge, engage the affiliates to help steer the difficulties of Industries and businesses. It solves affiliate difficulties both for those in the amateur stage, those who need full attention and support, and those who are already established.
Rakuten gets an average of over 54 million web visitors monthly. This shows value and originality.
Some of their partners are; American Heart Disease, BeFrugal, Boxfresh, Hunter, Ray-Ban, New Balance, Udemy, and many more.
Rakuten uses some tools like GMO payment gateway, Mobile in-app tracking, and the Rakuten Viber as supporting tools for its affiliates.
CJ Affiliate is an American affiliate network owned by Publicis Groupe. It was founded in 1998 in Santa Barbara, California, having been initially named Commission Junction. Their services extend beyond the U.S to the U.K, Germany, France, Sweden, South Africa, and Spain. It is currently owned by Alliance Data, which bought the company in 2014. They are the choice of over 70,000 partners and 4,000 brands around the world, connecting them through their network.
This network is a favorite for advanced and high-end retailers looking for high-value affiliate marketing and advertising solutions. Signing up is very easy. Upon signing up, you can immediately search for what brands they cater to that fit your niche. Once you find the brand you want to cater to, you simply apply to be an affiliate marketer.
One primary attribute of CJ Affiliate is that it allows you to promote your affiliate program, a feature that most other networks lack. This is particularly beneficial to new affiliates whom brands might reject because of their lack of experience. You get your program promoted to brands that are on the prowl for new affiliate programs. Many of the brands CJ Affiliate caters to include Business Insider, Debt Roundup, Intercontinental Hotels Group, amongst others.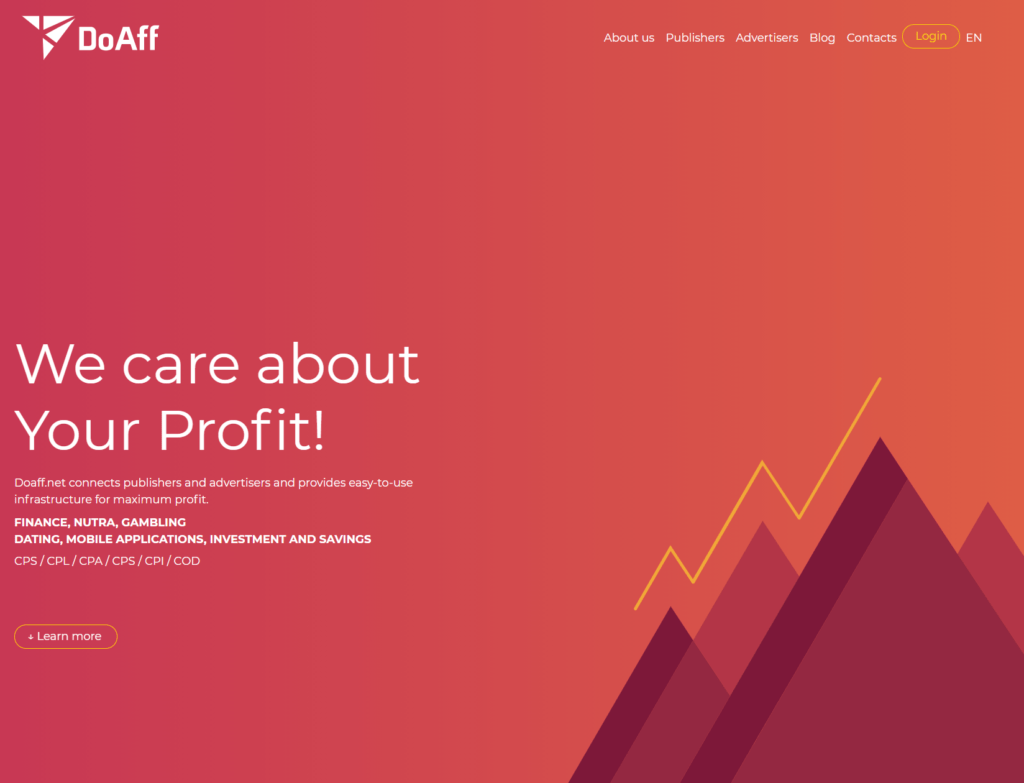 Doaffiliate is an international affiliate network founded in 2011 that focuses on the finance, NUTRA, and gambling industries. If your niche includes either of these industries, then this might be the one for you. They reach over 350,000 people every month and offer their affiliates a wide selection of techniques, including CPA/CPF/CPI/COD. They support many tracking methods like "Lead generation" and "cookie tracking."
Lead generation is the method used to collect contact info, and subscriptions from users, enabling the marketing process. At the same time, Cookie tracking involves the affiliate placing a link on their website, which places a small text file on the website visitor's browser. They also offer direct and in-house offers from brands and payouts on demand. Some of the brands that use Doaffiliates for marketing include health and beauty companies like Bioslim, Nefrofix, and ProstatX.
LeadGid is a Europe-based affiliate network that was established in 2012 in Estonia. They connect over 20,000 publishers and affiliates. They specialize in dealing with brands in the financial industry. They provide leads to banks and microfinance organizations.
According to their website, they offer technologically advanced and high-speed API-related solutions. Like many other networks, they provide on-demand payouts and credit lines to long-term partners. They have more than 400 offers available in over 30 countries, and they specialize in traffic quality control. This is an ideal solution for publishers and brands in the financial niche.
ClickBank is an American-based subsidiary of Keynetics Inc and is based in Boise, Idaho, where it is one of the largest technology firms. ClickBank has a network of over 100,000 affiliates connecting to their large market base. They were established in 1998 and currently have more than six million clients worldwide, making them the 87th largest retailer in North America.
By 2011, the website had over 1.5 million affiliate marketers offering consumers a vast look into their sprawling marketplace, which consisted of a wide variety of lifestyle brands. They also serve as an e-commerce retailer of physical and digital products. They offer over 46,000 products to their affiliate marketer and operate in over 200 countries with an annual turnover of above 1 billion USD. As of 2014, they have handled over 30,000 daily transactions.
Some of the brands they have worked for are Tinyurl, Weebly, Clicksale, etc. Customers have praised them for their prompt and timely payment of commissions and their extensive catalog of products.
FlexOffers, in alignment with their name, claims to offer "flexibility." They are a network that offers various marketing options, multiple data delivery options, and advanced payment solutions through NET 7 to create profitable partnerships for their affiliates. Their platform has over 12,000 advertisers. They offer a variety of commission products, different options that cater to your niche as a partner. Brands they provide services to include Macy's Yahoo, Holiday Inn, Olay, Clinique, etc. FlexOffers are relied upon by companies to recruit affiliates, track their progress and make sure they are paid.
FlexOffers has a wide range of affiliate niches that they support, including Media, Financial Services, Education, Business, and insurance, among many others. Affiliates can find ways to create B2B collaborations using FlexOffers advertisers. This enables you to connect consumers to products outside your niche by offering referrals. FlexOffers work by finding companies that don't have an affiliate program and need help setting up one. Also, they help those who want to provide high-quality products and services for their niche.
FlexOffers affiliate network uses the following tools for its operations: Downloads which help to incorporate the affiliate's marketing content into your website through XML or HTML formats, Web services that help include automated content to your site using PHP and ASP programs, and Subscriptions that allows you choose content that will be sent to your site.
JVZoo, a US-based affiliate program, was established in 2011 as a subsidiary of BBC Systems Incorporated. Companies like Payoneer, Paypal, Slack, and Getresponse are some of the brands they attend to. They are an instant affiliate program with over 800,000 active partners. They pride themselves on getting products marketed to consumers and customers as quickly as possible, allowing brands to pay for traffic that converts to sales as soon as possible.
Paid On Results is a well-established network based in the U.K that caters to members from all around the world. They are host to many merchants from a wide variety of niches for you to choose from. Things like average conversion value, cookie length, etc., vary between merchants. Sign-up is free, and payments are made in GBP (British pound). The frequency of fees on their platform is based on manual requests. Their main commission types used are CPA and CPS.
Some of the brands they have operated with include Dead Good Undies, Quidco, TopCashback, Sunshine.co.uk, Moonpig.com, etc. Upon signing up, they analyze your application and either accept or reject you based on your website traffic, niche, and content quality. They claim to be the fastest paying affiliate network in the U.K and have a user-friendly interface on their website to assist new members.
CrakRevenue, one of the younger networks on this list, was founded in 2010 in Canada. Its focus is on the adult entertainment niche. Don't be fooled by their youthfulness, though. Since their establishment, they have risen to one of the top 5 CPA networks and won more than eight international awards. Some of their verticals include Live Cams, ED, Adult Gaming, and Dating.
Depending on your sensibilities, be aware that there is much money to be made on this network, with some affiliates making upwards of 5,000 dollars per day with CrakRevenue. The network stands out from others by giving its affiliates exclusive partnerships with some of the biggest adult/dating brands out there and dedicated affiliate managers for each of their affiliates, guiding them through each step of the process. 
In addition to those exclusive offers, they also have internal offers that are owned by the network. They also give their affiliates on-time payments, which can be a luxury compared to many other networks, giving their affiliates peace of mind. They have over 35,000 affiliates and over 250 million dollars paid in affiliate commissions.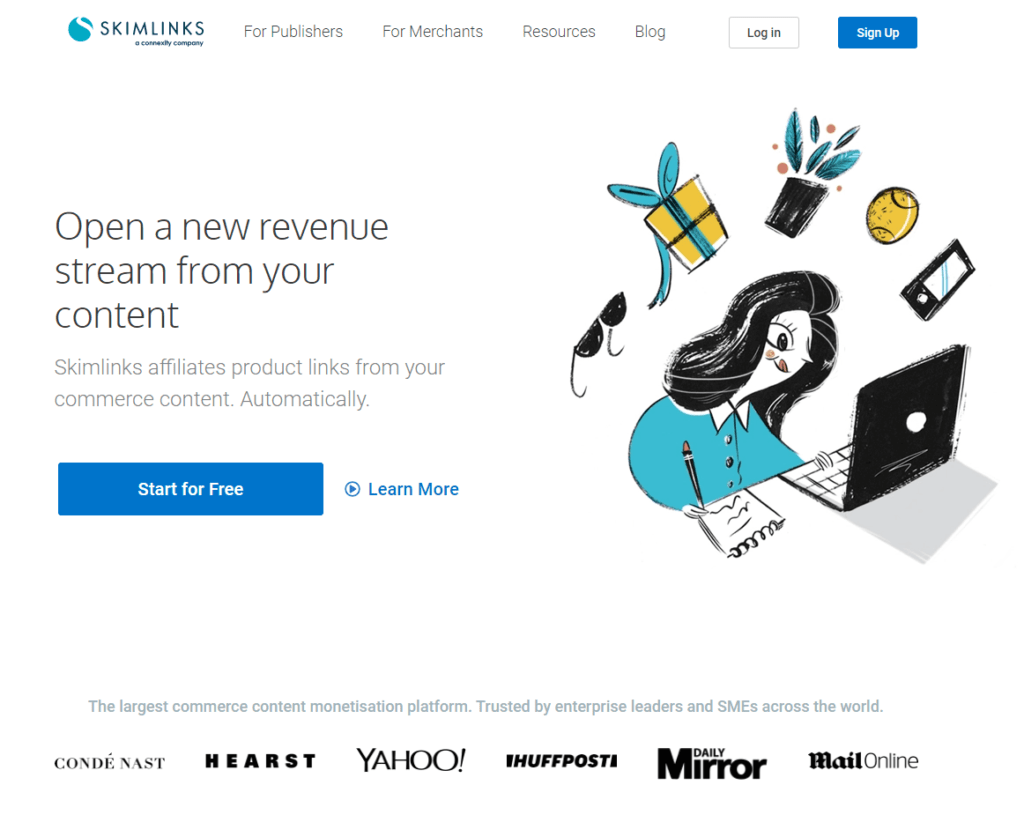 Skimlinks is a U.K based company that was set up in 2007 and stepped into the limelight in 2011 when affiliates whom Amazon cut off in their sales-tax controversy turned to Skimlinks. One of the biggest problems with the most effective affiliate programs is that they won't accept you without a proven sales track record, making it difficult for newcomers.
Skimlinks, on the other hand, allows new affiliates to bypass this issue by enabling sign-ups without a need for negotiation or approval. Once signed up, the visitors to your content click on the link, and you get your commission- after Skimlinks has taken their 25% part of the commission.
Also, Skimlinks is praised by reviewers as a network that does all the hard work for you. They offer partners an instant connection with over 25,000 merchants and a more hands-free attitude towards monetization. Some of their merchant brands are well-known brands like Airbnb, Hotwire, Athleta, Target, Sephora, etc. Reviewers have praised their website for being very easy to use, mainly as a newcomer.
Affiliate Marketing tools used by Affiliate Marketers
Affiliate marketers use many tools to improve the quality of their traffic and increase the commissions made. Some of the tools used by affiliate marketers to optimize their content include:
Affiliate Ad Tracking software: Many ad tracking platforms are designed for use by affiliate marketers. Examples are Affise and Voluum. This software can track advertising campaigns, optimize ads on performance and analyze data for insights.
Recruitment tools: Affiliates can grow their partner bases via sending targeted invitations to their audience based on niche, relevance, and performance criteria both in-network and out-of-network.
Convert-a-link: This was created for publishers to develop tracked affiliate links effortlessly. This tool is available on the Awin network. This means that you can add a standard link to your site. If this goes to one of the advertisers on the Awin network, it would ensure the link is tracked, allowing you to earn a commission if the user eventually makes a purchase.
ChatBot: This allows you to actively engage with customers and give them support and assistance in real-time. This tool has been shown to boost site engagement threefold, and it makes consumers 63% more likely to return to that site.
Google Adsense: Google Adsense allows you to make money as you continue to grow. AdSense works by allowing you to set up ad blocks throughout your site that other sites can pay to use. You can select payment per ad on your site in many different ways.
AnyTrack: An affiliate marketing tool that uses Google Analytics and Facebook Pixel to help marketers track and coordinate conversions from any affiliate network program. It has an integration with 50+ affiliate networks and software companies. It also has a feature of webhooks to harmonize conversion with third-party marketing solutions like email and API. The pricing ranges from the free plan to an advanced plan of a $300 monthly subscription which is advisable for agencies.
It has a true plug setup that easily tracks sales links in 3 minutes. However, it doesn't offer integration with Amazon.
LeadDyno: This tool helps you to initiate an affiliate campaign. It helps to position you for influencers and affiliates to notice you and your product. It is easy to use. You can test run the tool for free for 30 days to be sure of its originality.
ClickMeter: This tool helps you monitor your links and compare them with other links to give you insight into how to increase your traffic. It is suitable for creating your ads with just a 'click'.
Tune: This helps as a marketing tool to track transactions. The tracking uptime is as high as 99%. It shows the various processes that sales are undergoing. It is best for agencies with client funds. Though it is subscription-based, you can get a free trial for one month. After that, you pay $279 monthly.
ShareASale: This is a promising startup tool for affiliate marketers. ShareASale connects advertisers to publishers who are looking for assistance in increasing sales. Publishers get paid per lead, website visitor, or phone call that they drive for the advertiser.
SEMRush: This serves as a keyword research tool for affiliate marketers. It helps to discover marketing insights and increase online visibility. It helps in services like PPC, content marketing, marketing insights, PR, and keyword research. A similar tool is Ahrefs.
Other factors to consider when choosing an affiliate network
Now that we've shown you the myriad of options you have to choose from, you might be a little spoiled for choice. Don't worry, here are some extra tips to put in mind when selecting an affiliate network- just to make your day easier, of course!
Payment Methods
Although we don't go into details about the payment methods offered on most of these networks, it'll do you a great deal of good to do some research on the payment methods that best suit your needs. Make sure you find one that offers a payment method supported in your country, as not all these payment platforms have a global reach. We wouldn't want you missing out on your commissions!
Cookie Life Span
Cookie Life Span is the duration that tracking cookies remain active for potential online visitors who click an affiliate link. Always ensure you check for the cookie life of the affiliate links for any affiliate program you intend to join.