The AXI Affiliate Program is a highly reputable and lucrative affiliate program in the financial industry. With a strong focus on forex trading, it offers a range of benefits and opportunities for affiliate marketers.
One of the key advantages of the AXI Affiliate Program is its competitive commission structure. Affiliates can earn up to $800 per referred client, depending on the trading volume generated. This generous commission scheme ensures that affiliates have the potential to earn substantial income.
Furthermore, AXI provides its affiliates with a wide range of marketing tools and resources to maximize their success. These include customizable banners, landing pages, and tracking links, enabling affiliates to effectively promote AXI's services and attract potential traders.
In terms of statistics, AXI has a high conversion rate, which means that a significant number of referred clients end up opening trading accounts. This is a positive indicator of the program's effectiveness and the quality of the services provided by AXI.
Additionally, AXI boasts a high client retention rate, indicating that traders are satisfied with the platform and continue to trade over the long term. This is crucial for affiliates, as it ensures a steady stream of commissions.
Overall, the AXI Affiliate Program is a top choice for affiliate marketers looking to promote forex trading services. Its competitive commission structure, comprehensive marketing tools, and impressive conversion and retention rates make it a highly attractive program to join.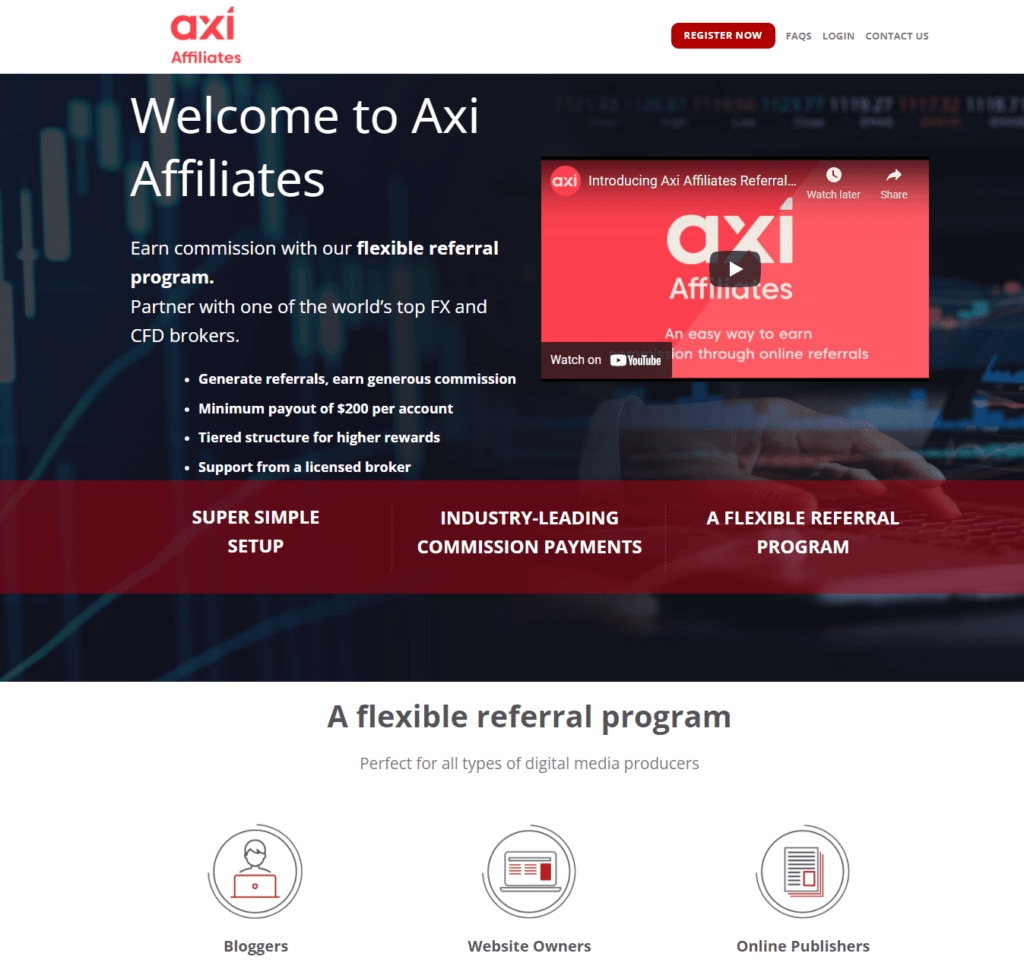 See full terms and conditions for axitrader's affiliate program here
Connect with axitrader
Specification:
axi Affiliate Program
| | |
| --- | --- |
| [CPA Amount] | $900 |
| [Categories] | CFD, Commodities, Cryptocurrency, Forex |
| [Revenue Share] | No |
| [Cookie Lifespan] | 30 days |
| [Minimum User Deposit] | $50 |
| [Payout Methods] | Bank Transfer, Neteller, Skrill |
| [Revenue Share Amount] | Subject to Eligibility |
| [Payout Frequency] | Monthly |
FAQs
How does the AXI affiliate program work?
The AXI affiliate program operates on a simple and transparent model. After signing up, affiliates receive a unique tracking link that they can share with their audience through various channels such as websites, blogs, social media, or email marketing. When a referred client opens an account and starts trading with AXI, the affiliate earns a commission based on the client's trading activity. The program utilizes advanced tracking technology to ensure accurate attribution of referrals and commissions.
What are the benefits of joining the AXI affiliate program?
The AXI affiliate program offers numerous benefits to its members. By joining, affiliates gain access to a reputable and globally recognized brand, which enhances their credibility and reputation. Affiliates also enjoy competitive commission rates, timely payments, and a dedicated affiliate manager who provides personalized support. Additionally, affiliates can leverage AXI's extensive range of marketing materials and resources to maximize their earning potential.
How can I sign up for the AXI affiliate program and start earning commissions?
Signing up for the AXI affiliate program is a straightforward process. Interested individuals can visit the AXI affiliate program page on the website and click on the "Sign Up" button. They will be directed to a registration form where they need to provide their details and agree to the program's terms and conditions. Once the application is submitted, it will be reviewed by the AXI affiliate team, and upon approval, affiliates can start earning commissions by referring clients to AXI."
Affiliate Program Terms
Rev share – Revenue Share
CPA – Cost per acquisition
Hybrid – A mixture of both CPA and Rev Share
Cookie Lifespan – How long a referred user has to convert so that you get the credit for the referral
Time Period – After a user has signed up, how long you earn revenue share for
User Reviews
axi Affiliate Program
Overall rating:
☆☆☆☆☆

0

based on

0

reviews.
*Field Required.
Your email is not published and will not be shared with 3rd parties