Panda Security Affiliate Program
PROS:
CJ affiliate is a great network
CONS:
Below average Commission Per Sale
The Panda Security affiliate program offers a lucrative opportunity for individuals or businesses to earn commissions by promoting their antivirus and cybersecurity products. With a strong reputation in the industry, Panda Security provides reliable and effective solutions to protect users from online threats.
While specific statistics and statistics about the Panda Security affiliate program are not readily available, it is important to note that the company has a high conversion rate due to its well-established brand and quality products. This means that affiliates have a higher chance of earning commissions for each successful referral they make.
Panda Security provides its affiliates with a range of marketing materials, including banners, text links, and product descriptions, to help them effectively promote the products. Additionally, they offer real-time tracking and reporting tools, allowing affiliates to monitor their performance and optimize their strategies accordingly.
The commission structure of the Panda Security affiliate program is competitive, ensuring that affiliates are rewarded for their efforts. The program also offers regular promotions and incentives to further motivate affiliates and increase their earnings potential.
Overall, the Panda Security affiliate program is a reliable and profitable option for those interested in promoting antivirus and cybersecurity products. With its strong brand reputation, high conversion rate, and competitive commission structure, affiliates have the opportunity to earn significant income while helping users protect their digital lives.
A bit part of their marketing strategy has been affiliate marketing and their current affiliate program offers a 50% CPA. This means a EPC of £5. Thy offer the same 50% for re-signups.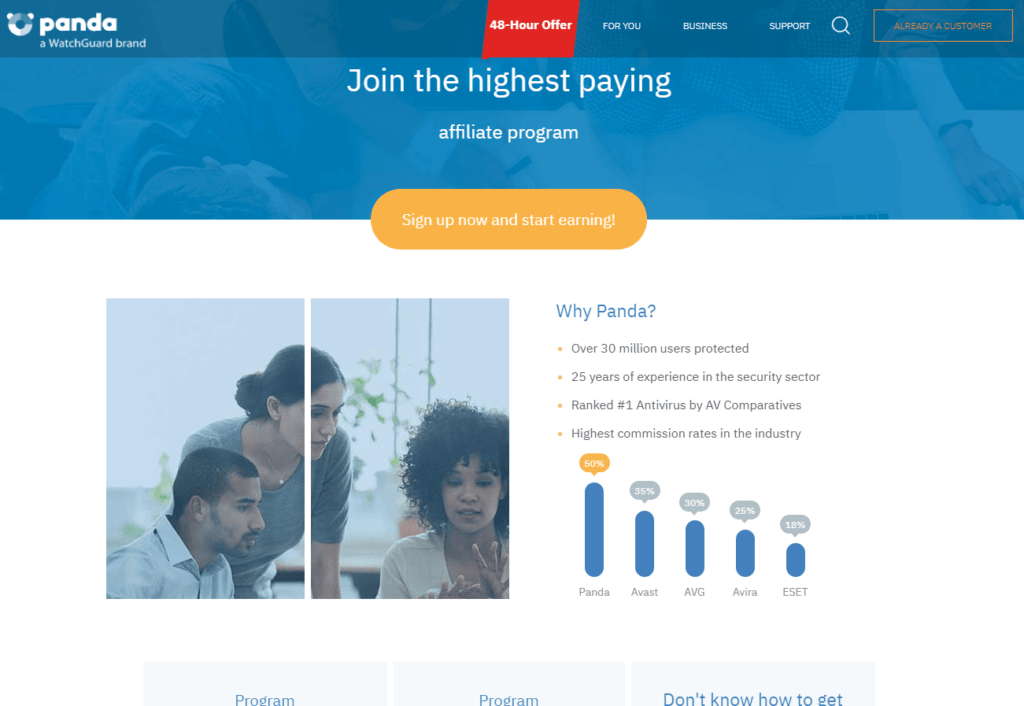 See full terms and conditions for Panda Security's affiliate program here
Connect with Panda Security
Specification:
Panda Security Affiliate Program
| | |
| --- | --- |
| [CPA Amount] | 50% |
| Commission Per Sale | £5 |
| [Revenue Share Amount] | 50% |
| VPN Network | |
| Minimum Withdrawal | $50 |
| [Payout Methods] | Bank Transfer, Payoneer |
| [Cookie Lifespan] | 30 days |
FAQs
Are there any incentives or bonuses for top-performing Panda Security affiliates?
Yes, Panda Security offers attractive incentives and bonuses for top-performing affiliates. As a top-performing affiliate, you can expect to receive exclusive rewards and recognition for your outstanding performance. These incentives may include higher commission rates, cash bonuses, special promotions, or even access to exclusive events and training programs. Panda Security values the hard work and dedication of its affiliates and strives to provide them with the best possible rewards for their success.
Can I promote Panda Security on social media platforms as an affiliate?
Absolutely! As a Panda Security affiliate, you are encouraged to promote their products and services on various social media platforms. Panda Security understands the power of social media in reaching a wider audience and building brand awareness. You can leverage your social media presence to share Panda Security's content, reviews, and special offers with your followers. By doing so, you can earn commissions for every successful referral made through your social media channels. Panda Security provides you with the necessary marketing materials and support to effectively promote their products on social media platforms.
What support and resources are available for Panda Security affiliates?
Panda Security offers comprehensive support and resources to its affiliates. When you join the Panda Security affiliate program, you gain access to a dedicated affiliate manager who will assist you throughout your journey. They will provide guidance, answer your queries, and offer personalized support to help you maximize your earnings. Additionally, Panda Security provides a wide range of marketing materials, including banners, text links, and product images, which you can use to promote their products on your website or social media platforms. Regular newsletters and updates keep you informed about the latest promotions, product launches, and industry trends, ensuring you have the necessary resources to succeed as a Panda Security affiliate.
Affiliate Program Terms
Rev share – Revenue Share
CPA – Cost per acquisition
Hybrid – A mixture of both CPA and Rev Share
Cookie Lifespan – How long a referred user has to convert so that you get the credit for the referral
Time Period – After a user has signed up, how long you earn revenue share for
User Reviews
Panda Security Affiliate Program
Overall rating:
☆☆☆☆☆

0

based on

0

reviews.
*Field Required.
Your email is not published and will not be shared with 3rd parties
Panda Security Affiliate Program