What Is A Forex Affiliate Program And How Does It Work?
Forex affiliate programs offer a way to promote Forex brokers and earn an income from successful referrals.
In this guide, we'll break down exactly what a Forex affiliate program is, how they work, and which ones to keep an eye out for.
Let's get into it.
Forex Affiliate Programs Explained
Brokers use affiliate programs to attract new people to their platforms by using other businesses, people, and their audience.
These referrers, or affiliates, are paid a commission for successfully referring new clients to the broker, typically under an agreement of minimum spending.
This is what is known as a Forex affiliate program.
What Makes A Good Forex Affiliate Program?
Like with most things of this nature, the devil's in the details.
The best forex affiliate program benefits both parties and incentivizes the Forex affiliate to spend time sending traffic to the program.
Here are some of the specific details about Forex affiliate programs that can quickly separate the good from the bad:
Commission Model & Bonus Schemes
Some Forex platforms use a CPA model or cost-per-acquisition.
These pay a commission when a trader signs up through an affiliate, and the payout depends on factors like their country of origin and initial deposit. As you can see above, different regions offer varying commissions as per the Vantage platform.
The size of this commission is one factor in judging how good the affiliate program is.
Others use a revenue-sharing scheme, which is where the affiliate receives a percentage of the trading fees collected for each referral over a given time zone, some of these being lifetime offers.
Obviously, those paying a higher percentage over a longer period are more valuable to potential affiliates.
On top of this, some brokers offer bonus schemes to top-performing affiliates—for example, a fixed monthly bonus for signing up a certain amount of traders.
Reputation & Conversion Rate Of The Broker
Another crucial factor when deciding whether a forex exchange program is good is the broker being used and their conversation rate and reputation.
It's all well and good sending a bunch of traffic over to a broker, but if their platform and brand don't convert, you'll struggle to make any significant income.
Minimal Restrictions
Restrictions on payment schedules can make a Forex affiliate program particularly difficult to deal with.
The last thing a successful affiliate wants is to be capped on how often they can withdraw their funds, and reputable affiliate programs make this process as straightforward as possible.
Reporting & Marketing Tools
The last thing to consider with any Forex affiliate program is how transparent the reporting is, alongside the marketing tools on offer to support the affiliate.
Transparency with reporting builds trust and confidence in the affiliate and allows them to see where their efforts are best spent regarding conversions clearly.
Marketing tools assist with increasing conversions, so they work hand in hand with reporting.
How Forex Affiliates Work
Forex affiliates are people or businesses who refer people to Forex platforms for a commission.
This can be done in many ways; for example, some people may choose to run Google ads to a landing page that converts people into a Forex affiliate program, while others may use an existing email list or a blog post for their audience.
Forex affiliates will typically specialize in one method of promoting a Forex affiliate program to their audience in exchange for clicks through to the program and, ultimately, the affiliate commission.
Examples Of Forex Affiliate Programs
Here are a few examples of the best forex affiliate programs, along with a couple of key details about them:
Many Forex affiliate programs exist, but affiliates usually focus on one or two and test continuously to see which converts better.
Best Forex Affiliate Program
If you want to know which Forex affiliate program is best, you can read our rundown of the best picks here.
XM Partners Affiliate Offer Page
We're big fans of the XM affiliate program, which offers personal managers, no limits on total commissions, and much more.
Benefits Of Working With A Forex Affiliate Program
Working with a Forex affiliate program has many benefits; let's explore some of the main ones.
Earning Potential
The most obvious benefit of Forex affiliate programs is earning potential.
With most programs offering hundreds of dollars per conversion, with some even exceeding $1,000, it's clear to see how much earning potential there is working with these types of programs.
As long as you have an audience to promote the offer to, there isn't much of a limit on how much you can earn. This can be significantly improved with offers that include lifetime earnings per successful referral, as you'll continue to earn commissions as long as they trade.
Flexibility
Another key benefit of Forex affiliate programs is flexibility.
As long as you're sending clicks and, hopefully, conversions to the offer, there are no restrictions on where and when you need to work.
Testing
Assuming you work with a reputable Forex affiliate program, they will have many marketing materials you can use and test on your audience.
When you combine this with any in-house testing you're doing yourself; it becomes straightforward to scale up and find an offer that works.
In summary, forex affiliate programs are excellent for boosting your income if you have the right audience.
It's all about choosing the right broker to promote to the right audience; once you can manage that, you'll have no problem making a profit.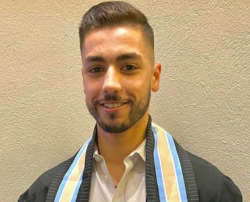 Latest posts by Abdul EL Balaa
(see all)