Maximising Conversions: 7 Best Tips and Strategies to Boost Affiliate Marketing Conversions in 2024
Affiliate marketing continues to be a powerful tool for businesses to advertise their goods or services in the fast-growing world of digital marketing. With that being said, maximising conversions offers affiliate marketers a lucrative opportunity to promote a wide range of businesses and products they are passionate about all while earning a commission. This article will provide you with helpful ideas to improve affiliate conversion rates, encourage higher affiliate marketing conversions, and eventually boost affiliate sales, whether you're an affiliate marketer or a business owner trying to increase revenue. We'll also discuss the value of SEO and share tips for improving conversion rates.
Success in the always-changing world of affiliate marketing depends on being on top of the trends. As 2024 approaches, affiliate marketers must use the newest techniques to increase their conversion rates as the competition is more ferocious than ever! It's time to dive into the top seven best tips and strategies to boost your conversions for the new year.
Improving Affiliate Marketing Conversion Rates: SEO for Affiliate Promotion.
Any effective digital marketing plan, including affiliate marketing, is built on search engine optimization (SEO). A well-optimised website can draw organic traffic, which can lead to more prospective consumers and conversions. The following will help you maximise your affiliate marketing efforts.
Success in affiliate marketing is built on SEO. SEO is the top traffic source for 69% of Affiliate marketers. Your content needs to be optimised for search engines as part of on-page SEO. Key components include meta tags, properly structured content, and keyword research and implementation. In addition to the following, off-page SEO techniques like link building and social media signals can also increase the engagement of your website and increase organic traffic. Make sure your site loads quickly and is responsive to mobile devices as these aspects are becoming more crucial for SEO.
More On SEO:
When it comes to SEO, great content is the driving force behind conversions. To interest your readers, write engaging and educational content. It is important to grab the readers' attention in the first sentence or two and keep them engaged right until the end. It is also a good idea to update your content frequently to keep it current and interesting.
For the upcoming new year, Focus on producing content that engages your target audience. Content must be entertaining, and must help the reader solve some sort of problem or inconvenience. This strategy promotes more click-throughs and conversions while also increasing trust. Make sure your material is well-researched, current, and relevant to your niche to increase its shareability and linkworthiness!
Since SEO can sometimes be difficult to master on one's own, I truly recommend the following tools that can help make your experience a little easier.
1. SEMrush
Founded in 2008, SEMrush is a very popular software platform used for online marketing and search engine optimization (SEO) research. It offers a variety of different tools to assist website owners, digital marketers, and SEO experts in optimising their online presence and raising their search engine results rankings. It has very good reviews and it works very well!
2. Ahrefs Tools.
Ahrefs is a well-known SEO tool, known for its online marketing toolkit. Ahrefs created this toolset to help aid website owners, digital marketers, and SEO specialists in increasing their online exposure, examining their rivals, and making data-driven selections.
Improving Affiliate Conversion Rates: Increasing Conversion Rates.
It's essential to increase conversion rates while using affiliate marketing. Your goal is to convert site visitors into customers. Here are some excellent suggestions to improve affiliate conversion rates: Select goods or services that fit your specialty and speak to the wants and desires of your target market. Your suggestions may be more sincere if you are promoting goods you firmly believe in. It is also important to establish trust with your audience. One way of doing this is by offering open, truthful, and thoroughly investigated product reviews.
A winning, comprehensive strategy that incorporates a thorough understanding of your audience, excellent content, powerful SEO, convincing CTAs, images, social proof, exclusive incentives, A/B testing, transparency, and personal branding is what will truly increase affiliate conversion rates. You can also increase your conversion rates and make the most of your affiliate marketing efforts by continually modifying your methods in response to statistics and audience feedback. Keep in mind that affiliate marketing success is a process that requires continuing learning and adaptation. So don't be too discouraged if one or two methods aren't working out for you or if you aren't seeing results right away.
Improving Affiliate Marketing Conversion Rates: An effective call to action is VERY important.
Whether in an email, on your website, or in an advertisement, an effective call to action (CTA) is an essential part of any marketing message. It's the component that encourages your audience to do a particular action, like buying something, signing up for a newsletter, or getting in touch with your company. It is important to create calls to action that are compelling and straightforward to inspire readers to click affiliate links or conduct other desired actions.
Use verbs that encourage action, such as "Buy now!" or "Start now!" You could also offer a sense of urgency. Offer specific deals for a limited time like enrolling in a company newsletter or a flash sale.
Keep in mind that CTAs that are customised for your particular audience, product, and marketing objectives are the most effective. What is effective for one company or campaign could not be effective for another. So, spend some time getting to know your audience and then adjust your CTAs as necessary. An effective CTA not only motivates action but also helps your marketing campaign succeed.
Improving Affiliate Marketing Conversion Rates: Comparative Analysis for Continuous Improvement.
A/B testing is a tried-and-true tactic that will still be quite effective in 2024. Analyse your affiliate marketing activities frequently to determine what is effective and what is not. To find the most successful combinations, experiment with various aspects such as headlines, call-to-action buttons, colors, and layouts. You will most likely improve your affiliate marketing strategies with data-driven trial and error, eventually resulting in improved conversion rates.
In various fields, from business and economics to healthcare and education, Comparative Analysis is a reliable strategy for ongoing improvement. This technique compares several sets of data, procedures, or tactics systematically to find strengths, shortcomings, and areas for development.
Improving Affiliate Marketing Conversion Rates: Multi-Channel Marketing.
Multi-channel marketing, sometimes referred to as omnichannel marketing, is a holistic strategy that comprises interacting with and engaging your audience through a variety of marketing techniques and channels. The main goal of multi-channel marketing is to give each reader a seamless and integrated experience wherever they choose to interact with your business. The most important thing about this technique is to guarantee consistent messaging and experiences across all of these channels, whether through email, social media, or directly through your website.
Always avoid focusing only on one platform. Utilise numerous platforms, such as social media, email, and your website, to spread the word about your affiliate links.
Your reach and potential conversions may grow by diversifying your marketing methods. It is also very important to make sure that the brand message, appearance, and feel are consistent across all platforms. By maintaining consistency, businesses may strengthen their brand identities and increase their customers' awareness and trust.
Improving Affiliate Marketing Conversion Rates: Email Marketing
Email marketing is still quite relevant in today's world. Although many think email marketing is outdated, here is how it may be a good idea to help boost your conversions. There are roughly 4 billion daily email users around the world and 77% of brand marketers have seen an increase in email engagement within the last year. So, is it really outdated? Start by creating customised, engaging email campaigns that are tailored to the interests of both your company and your readers. Within your emails, strategically promote affiliate products by providing exclusive discounts and informative reads that increase conversions. Email marketing is still an effective way to build long-lasting connections with your audience and advance your affiliate marketing campaigns.
If this is something you would like to try, look into using affiliate marketing software and solutions to increase the effectiveness of your efforts. These tools allow you to monitor performance, enhance marketing, and boost revenue.
Improving Affiliate Marketing Conversion Rates: Embrace the power of Video Marketing.
Unquestionably, video marketing is one of the most effective styles of marketing out there, especially in today's world. Think about including videos in your affiliate marketing plan for 2024. Unboxing videos, how-to, and product reviews are all common formats that can successfully engage your audience. You may also get more traffic and boost your affiliate conversions by optimising your videos for search engines and posting them on websites like YouTube or TikTok. Videos can also help you connect with your audience, improving your conversions.
Considered an effective method that benefits both businesses and marketers, affiliate marketing offers a win-win situation. You can drastically improve your affiliate marketing conversion rates, and eventually enhance your affiliate revenue by implementing the following strategies for conversion optimisation. Keep in mind that affiliate marketing success involves commitment, ongoing learning, and adaptation. To keep a competitive advantage, keep tracking your progress so you can track your growth as an affiliate marketer.
Looking for more information? Feel free to browse the The Affiliate Monkeys site for more comprehensive information and resources on affiliate marketing. You will have access to a treasure trove of information including different tools to help make your experience easier! Here, you can get more advice for beginners and much more!
New to Affiliate Marketing? Click HERE for more information on affiliate marketing for newbies!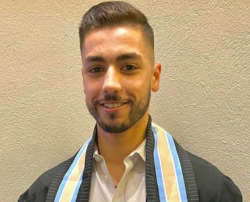 Latest posts by Abdul EL Balaa
(see all)