Affiliate Programs That Pay Daily 2023
Are you an affiliate program member and have earned commissions? However, you can't withdraw your money until one month has passed. That's bad, isn't it? Typically, affiliate programs payout once a week, once a month, or once a quarter. For fast income, however, you should opt for an affiliate program that pays daily.
Our affiliate network list includes some of the best affiliates that pay daily. The number of best affiliate programs that pay daily is very small. Here, we focus solely on those that make daily payments for qualified sales, while other blogs cover weekly, monthly, and quarterly payments.
10 Best Affiliate Programs That Pay Daily
Are you tired of waiting for affiliate marketing platforms to pay you? Listed below are the best affiliate programs that pay daily to help you get started with affiliate marketing. These networks affiliate marketing for hundreds of products, making it easy to select products based on your niche.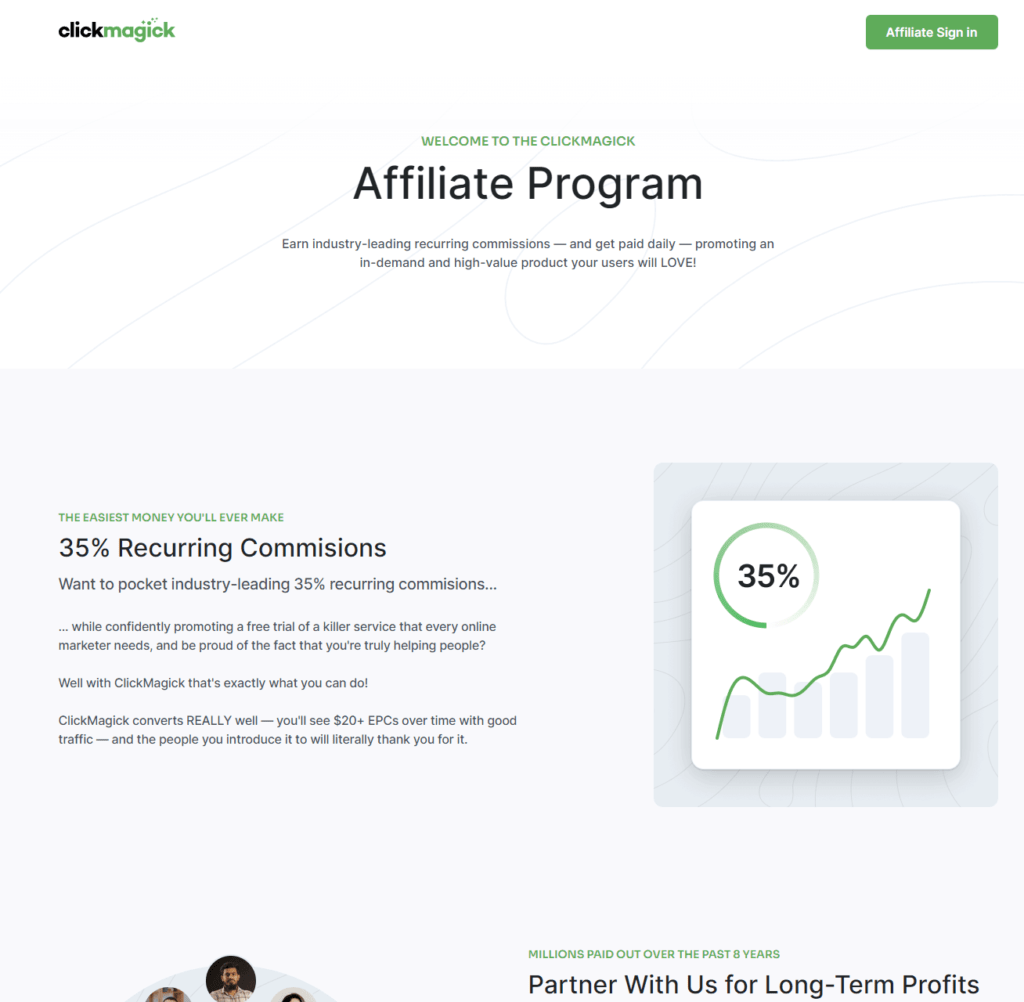 ClickMagick offers advanced tracking solutions for both beginning and seasoned online business owners. The ClickMagick tool enables users to track and optimize all their sales funnels. There are many features you receive with the ClickMagick tool, such as bot protection, real-time reporting, split testing, and many others.
The ClickMagick affiliate program pays its affiliates daily, receiving top-notch support, promotional materials, and creatives that convert well. To qualify, you must have made $50 in affiliate commissions. Despite the high threshold, you can easily meet it if you have high-quality traffic that converts. Using PayPal, you can get paid at any time of the day according to your convenience.
Key Features
35% Recurring Commission on Sales
$50 Minimum Payout
Get Paid Via Paypal
Warrior Plus provides digital products and services to online entrepreneurs and affiliate marketers. Warriors Plus is not just a platform or a marketplace but a community of passionate and inspiring online entrepreneurs generating passive income through affiliate marketing.
Warrior Plus pays their affiliates daily, and their affiliate program has already attracted thousands of affiliates who are making money promoting products that help people achieve their goals. Every qualified sale you generate in the digital marketing niche automatically goes to your PayPal account.
Key Features
Up to 100% Commission
Session-based Cookie Duration
$15 Minimum Payment
Get Paid Via Paypal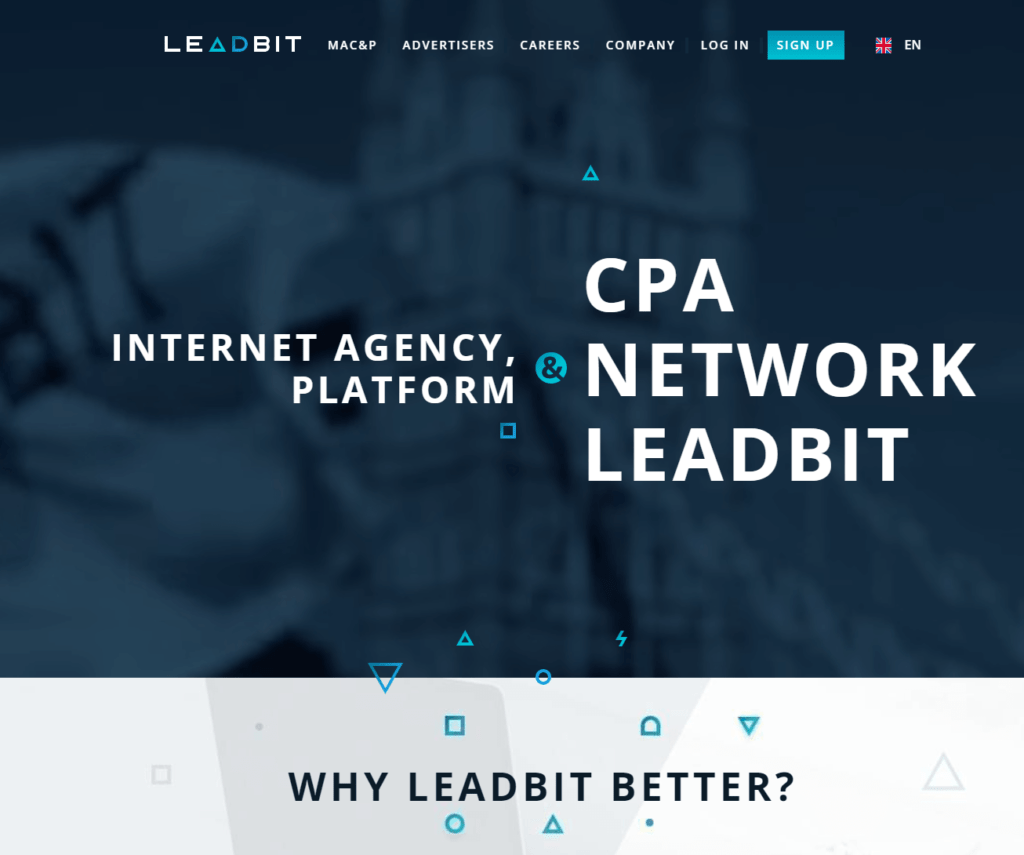 The Leadbit affiliate network and CPA network offer advertisers and publishers the opportunity to make more money and scale their businesses. This Russia-based platform allows you to choose thousands of products for your campaigns. Their program directory also features CPA offers for casinos, weight loss, and adult dating.
You can access high-quality tracking tools, banners, and exclusive offers through their platform. Custom offers are promoted through the affiliate program, and payments are processed daily.
Key Features
High Paying $250 commission for each sale
Get Paid via PayPal, Credit Card, Wire Transfer
Our next daily-pay affiliate program is an application that helps lawyers and paralegals manage their businesses better. Using the company's software, small and large firms can automate their work processes and do more with less effort. Those who sign up for an annual plan can enjoy significant price reductions.
PracticePanther affiliate program is one of the best that pays daily. This is a free-to-join and high-paying affiliate program in 2023. They offer excellent promotional materials and dedicated support to help affiliates succeed. The program is among the most lucrative ones on the daily paying list, as affiliates receive $100 for each referral.
Key Features
$100 Commission
Get Paid Via PayPal, Dwolla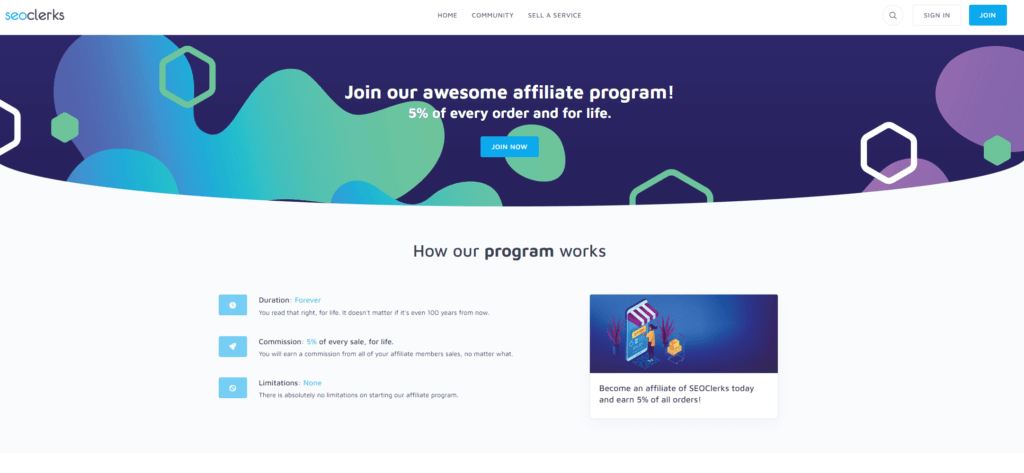 The SEOClerks marketplace is a vast group of vendors who sell online marketing services. A variety of products and services are offered under this business model, which is similar to Fiverr, an online freelancing platform. Through SEOClereks, you can earn money by referring small online businesses that sell marketing tools and products, such as content writing and link building.
The SEOClerks affiliate program lets you earn 5% commissions on sales. Therefore, if you have a large user base, you may be able to earn a handsome monthly income.
Key Features
Lifetime Cookie Duration
5%+ Commission
Get Paid Via PayPal, Payoneer
PayKickStart enhances business operations for coaches, content creators, and other business owners. PayKickStart makes it easy to earn commissions by recommending it to your audience, with whom you share digital marketing tips.
You should join PayKickStart's affiliate program if you have an audience in the digital marketing industry. Additionally, they pay handsome commissions and other fantastic promotional items to their partners daily. Their 14-day free trial contributes to the decent conversion rate of their products.
Key Features
25% commission on sales
14 days cookies duration
Get Paid Via Paypal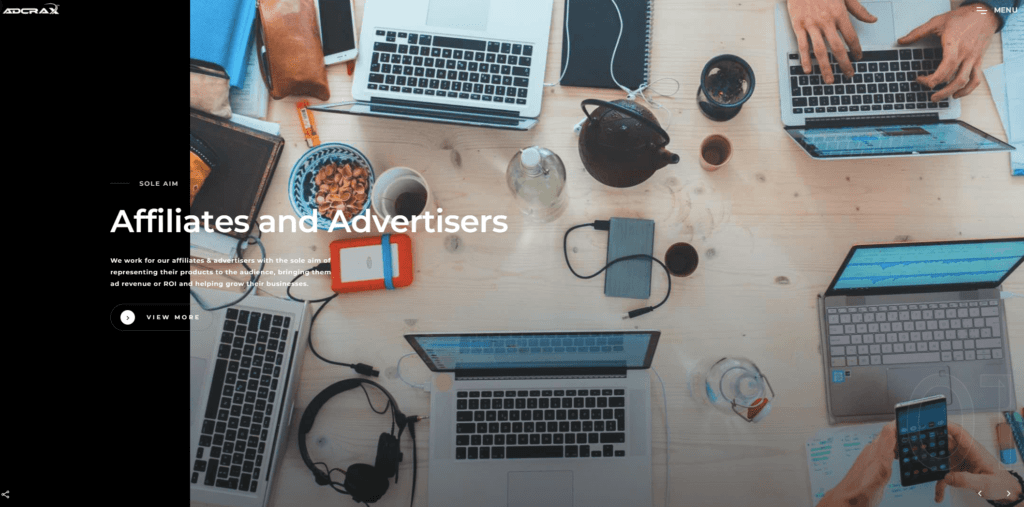 The AdCrax affiliate network is quickly growing on the mobile platform. They serve high-quality ads and increase ad revenue by working with mobile ad networks, operators, and publishers. This affiliate network will be a great choice if you want one that works well with your smartphone users.
Founded in 2014, AdCrax is an affiliate marketing network focused on smartphones and mobile devices. AdCrax offers three types of campaigns: CPI, CPA, and CPL. This affiliate program allows you to promote top-notch offers and generate steady-consistent commissions. As an influencer, you can also monetize your audience through direct offers.
Key Features
High Commission
$10 Minimum Payout
Get Paid via PayPal, Wire, and Payoneer.
Rebll is an affiliate marketing network that promotes dating services. By joining this network, you can earn huge money from your dating blog, social media page, or website. It offers around 600 products and services for affiliate marketing in the dating niche. There are two types of commissions in these offers: CPA and CPL.
The Rebll affiliate program offers high-quality commissions and 24-hour customer service. Although they are not very popular and have limited offers, they are the best dating affiliate network that pays daily.
Key Features
Up to $20 Per Lead
30-Day Cookies Duration
Get Paid via PayPal or Wire Transfer
Leadstead brings together publishers and world-renowned brands. This network believes in performance marketing that works for all members. The company has large numbers, trustworthy partners, and competitive payouts.
Affiliate partners of the Leadstead affiliate program receive a variable commission rate. There are currently 5,000 publishers in this network promoting nearly 1,000 affiliate programs ranging from CPA, CPI, CPS, and CPC. Affiliates are paid daily via PayPal, Wire Transfer, or Payoneer.
Key Features
$50 Minimum Payout
5% per referral
Get Paid via PayPal, Wire Transfer, or Payoneer
In 2012, Coinbase started using an app to make crypto trading possible. The Coinbase cryptocurrency trading platform is one of the most popular in the world. The excellent UX and reliability of Coinbase differentiate it from its competitors in the emerging cryptocurrency space. Nevertheless, Coinbase's profits aren't just restricted to trading. As part of Coinbase's affiliate program, affiliates can earn commissions of up to 50% for the first three months.
Key Features
50% of referral's trading fees for three months
$50 Minimum Payout
Conclusion
Choosing the right affiliate network that pays daily can be a challenge. You can find several affiliate networks online, but they don't work. In most cases, they will try to entice you with the promise of instant or daily payouts, but this is rarely the case. Nevertheless, don't give up! Now choosing the right affiliate program for you is easier with our list of the best affiliate programs that pay you daily.