How To Find The Best Affiliate Programs
Why Affiliate Marketing Is More Vibrant Than Ever
If there's one silver lining to the national lockdown, it's that we've all been blessed with time. Whilst many have been unwillingly and oftentimes forcibly given more, most of us have been lucky enough to retain our jobs and transition to working from home. This has resulted in the average adult saving over an hour a day on commuting or using transport1
With all this additional free time you are no doubt wondering whether you should put it to good use and try to earn some extra cash, the classic 'side hustle'. Well, you're not alone. Since lockdown there has been a 110% increase in new internet retail businesses, with over 13k new online firms started in June alone2. This is fantastic news for the budding entrepreneur and even better if you have already established your blog or e-store.
There's plenty of articles on Hacker Noon about how to earn money using affiliate programs and which industries you should get into. I'm going to cover the affiliate market, why I think it's more viable today and how I find the best affiliate programs.
At the time of writing, we are about to enter the UK's second major lockdown which means no shopping and no spending (in-store). As you would have guessed, the inability to browse the aisles has pushed a huge number of people to e-stores for their groceries, clothes, appliances and electronics, which has caused the online marketplaces to explode. E-commerce consumer sales are up over 52% in selected brands YoY3. There's never been a better opportunity to capitalise on this trend with affiliate links and referral fees.
Earn Money Using Affiliate Links
You can earn money through CPA (cost per acquisition) or revenue share models on your blog, e-store, Youtube channel and Instagram account by hosting affiliate links and driving your audience to make purchases on the corresponding partners' website – simple. The program you choose is down to you but it will largely depend on what products and content you provide. For example, if you run a Youtube channel about trading, then you might want to have a link for Trading 212 in your video description, which means you could earn at least $300 (~£228) for every new sign up you secure (so long as they deposit $100 (~£76)). If you run a travel blog, why not have a widget for Skyscanner built into the text so your users can price search their post lockdown holiday. You'll get 50% of the purchase if they do, T&C's apply such as minimum purchases etc.
How to Find the Best Affiliate Program
Once you've figured out exactly what you want to promote you're going to want to know which companies offer the best affiliate programs. Your perception of the best may differ from mine. You could be looking for the highest paying affiliate, best revenue share, longest cookie window or largest bonus scheme. Either way, you might think to scour the web or even go to each company individually and read their program terms. There are two key problems with this: firstly, there's hundreds to choose from and looking through all will waste time, and secondly, sometimes you won't know that a brand offers an affiliate program or worse, you won't know the brand at all.
Luckily, several sites have compiled the data and keep an up to date registry of all the best affiliate programs. This overview will mostly focus on sites that have made dedicated tools for filtering and analysing the best affiliate programs, rather than blogs. I've compiled my top 5 sites below: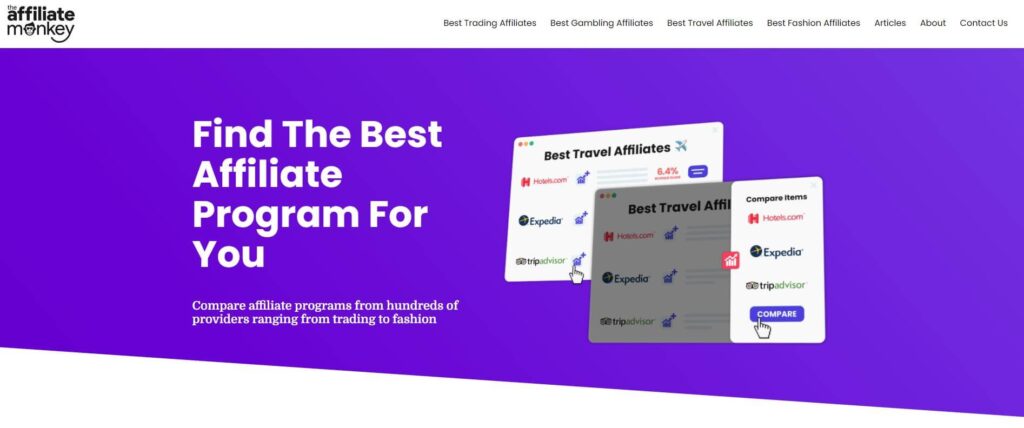 This is a great site if you want to compare the best affiliate programs. Its tool shows side-by-side views from hundreds of affiliate programs and filters them by the price, revenue share and cookie lifespan. They have helpful articles and guides to get you on your way with affiliate marketing. Each program has a write-up and there you can find more detail on the brand. Another helpful feature is that you can compare brands who run across networks to find the best network.
Pros
The most comprehensive affiliate comparison tool
Hundreds of affiliate programs to compare
An in-depth review of the affiliate programs
Cons
Four industries are currently listed
Articles can be difficult to navigate
Forex referral is a trading affiliate information site with intricate detail on the world's leading trading programs. Each program has its article with in-depth information on its history, how it functions and key highlights.
Pros
User-friendly site
Top brands from across the world
Lots of detail
Cons
Trading affiliates only
No data on cookie lifespan
Whilst technically being a blog, it is worth mentioning this site because of the tool they use to display the affiliate programs. You can filter by industries such as gambling, travel and trading or platforms, like mobile, app, or networks vs direct. Even better is that you can filter by the commission types like cost per acquisition (CPA) or revenue share. I found using the tool easy and when you select your filter, they automatically display a quick guide on what you've selected, nice touch.
Pros
Easy to use the filter tool
Handy review sections
Cons
Not many affiliate programs to date
There could be more filters
The owner of this site says that it was made for personal use because they couldn't keep track of all the affiliate programs they were signed up to. The site chronicles all the major affiliate networks and their corresponding brands all in one place. It hosts a huge library, hundreds of affiliate programs from across the world. Whilst functionality isn't the best (there's no filter option), there's a search bar at the top that you can easily use and when you do, you'll be greeted with a review of the brand, what country it operates in, the cookie lifespan and what networks it runs through.
Pros
Hundred of affiliate programs
Details on which network they sit with
Cookie lifespan and payout details
Cons
No filter functionality
No direct brands
The large library can be daunting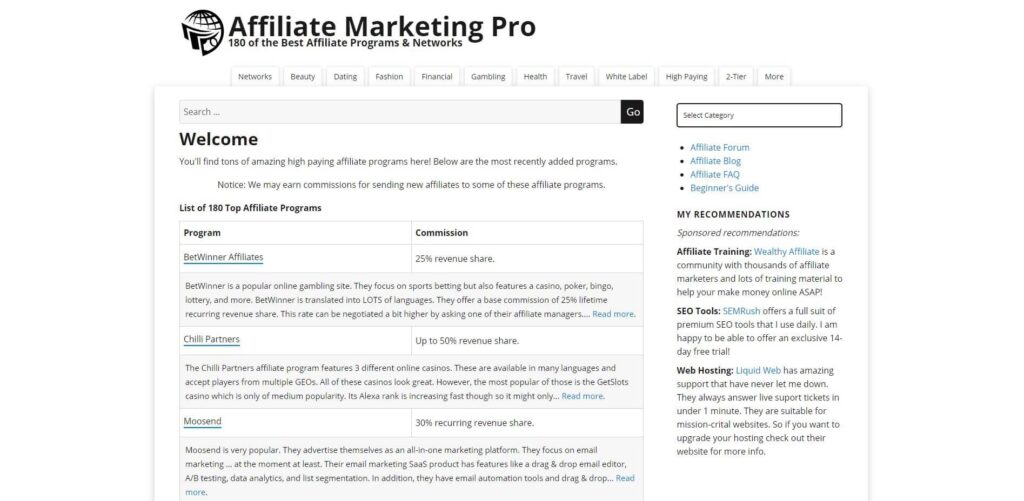 Affmar is an affiliate site which boasts 161 of the best affiliate programs. It details the major networks across several industries such as fashion, gaming, travel and finance. Within its network write-ups, it details the program features, revenue share and/or CPA and how many programs it runs. Unfortunately, it doesn't go into detail about what the programs are so you'll have to follow the links to the networks to find out, which is less than ideal. I found this site good when I was just starting my search.
Pros
Large library of networks
Hundreds of different industries
Cons
No detail on specific brands
No filter functionality
Annoying popup on every page
Conclusion
There are thousands of blogs and articles online that try to display the best affiliate programs. Whilst these can be detailed and insightful, I found that they weren't user friendly. I wanted to show the sites that could display all the up to date affiliate programs so that any user could filter through and make the most informed decision, without having to scour the web.
I found the Affiliate Monkey the best site at actually comparing affiliate programs, I'm looking forward to seeing how this tool develops as they expand on the number of brands and introduce a dedicated network section.
Citations:
Office for National Statistics – https://www.ons.gov.uk/economy/nationalaccounts/satelliteaccounts/bulletins/coronavirusandhowpeoplespenttheirtimeunderrestrictions/28marchto26april2020
Enterprise Nation https://www.enterprisenation.com/learn-something/rise-in-startups-during-lockdown/
For more tips, visit our homepage and compare hundreds of affiliate programs and see which affiliate program fits you best.