How to Make Money on Twitch
Twitch.tv has become the platform for live streaming. Initially focused around just gaming, Twitch has expanded into many other categories such as in in real life (IRL) and music shows. Through 2020 Twitch clocked 17 billion hours watched and 17.5 million average daily users, largely driven by lockdowns due to the pandemic. The platform now commands Some of Twitch's biggest stars such as xQcOW regularly pull in over 60,000 concurrent viewers and $300,000+ per month through subscriptions and donations.
With numbers like these it's not hard to see that there can be serious money to be made in streaming. Some Twitch streamers are making upwards of seven figures a year across a mixture of subscriptions, donations, ad revenue, sponsorships/affiliates and other sources. But, you don't have to be a big streamer with millions of followers to earn money from Twitch.
Donations
Whether you have just started or a veteran of Twitch, donations are one of the most commonly used ways audiences use to support their favourite creators. Donations are a popular way to get your message seen on stream through use of software such as StreamLabs or ask questions to your favourite streamer via text-to-speech.
Subscriptions and Bits
When you get big enough you can apply to become a Twitch partner and gain access to a whole host of new revenue channels such as subscriptions, bits (a form of donations) ad monetization and more.
Currently the requirements for joining are as follows:
Reach 50 Followers.
Stream for 8 hours.
Stream on 7 different days.
Have an average of 3 viewers.
To qualify for the Affiliate Program, you must simultaneously meet all four requirements over a 30-day period.
More details on Twitch's official page can be found here.
When enrolled you receive a 50% cut of revenue from subscriptions starting at $4.99 per month as well as a cut of the video ads run on your stream.
As your steam grows you can later apply to become a Twitch partner which gives you more access to further features as well as better revenue splits (see more here).
Twitch Affiliate Game Sales
If you are streaming a game sold on the Twitch store, a "buy now" button automatically appears under your stream. Twitch Affiliates will receive a 5% share of purchases of game that are made through the "buy now" button on their channels. This native integration with Twitch is great if the game you are streaming is sold on the Twitch store, if not, then you might be interested in the affiliate programs from key resellers mentioned below.
Affiliate Programs
Common questions many streamers get is regarding what or where they bought a peripheral they are using. Rather than responding to each person in tern, it has become common-place to list the products in the panels on your channel. Naturally, it just makes sense to turn those FAQ answers into affiliate links to where the items can be bought. This is a great way to turn those clicks into real money, and creates another revenue stream. There are all kinds of affiliate programs for all kinds of streamers varying from gaming peripherals to energy powders/drinks – here is a list of our favourites below:
Key Resellers
Key reseller affiliate programs are a natural fit for promotion on Twitch. Members in your audience may be checking your stream out to see whether the game is worth getting or not, so should they want to go ahead and get it referring them to a website where they can get it discounted from the RRP only makes sense. Here are some of the more popular key marketplaces below:
G2A is the one of the largest gaming marketplaces in the world including PC games, Steam games, prepaid cards for consoles and skins. Released in 2015, G2A's affiliate program has paid out €6.4m+ in commission to its affiliates. G2A offer buyer payment protection and G2A plus, a monthly subscription service which includes add perks like discounts and free games.
G2A offers and 5% commission on digital goods and 4% on physical goods along with a CPA of €1 for a 1-month subscription and €2 for a 12-month subscription.
Positives:
5% Commission
CPA on Plus subscription
Negatives:
A well known key reseller in the gaming space, Kinguin boast 12+ million registered accounts and €17m monthly revenue. They are rated "Excellent" on TrustPilot with an average of 4.4 Stars with over 35,000 reviews. With their optional "Kinguin Buyer Protection" money back guarantee and 24/7 customer support
Kinguin has a commission structure that includes 3rd level referrals allowing you to benefit from the referrals of your referrals. Here is Kinguins affiliate program breakdown:
Level 1: 5% Commission
Level 2: 0.75% Commission
Level 3: 0.25% Commission
Positives:
5% Commission (Level 1)
2nd and 3rd tier commission structure – so you benefit from your referral's referrals and their referrals on top of that!
PayPal payouts
Negatives:
For Kinguin's affiliate program full terms and conditions see here.
Amazon Blacksmith
Available for Twitch partners, Amazon blacksmith is an integrated tool built for Twitch that lists your peripherals on your channel and the commission rates are much higher than a regular Amazon Associates account.
Currently the commission through Amazon blacksmith is as follows:
PC products 4%, increased from 2.5%
Office Products (including Gaming Chairs within this category) 5%, increased from 4%
Luxury Beauty (for him and her) 12%, increased from 10%
Physical Video Games 2%, increased from 1%
Digital Video Games 10%, instead of 2%
More details can be found here.
Merchandise
If you are starting to build a significant enough following, consider selling your own merch such as hats, t-shirts, hoodies, mugs etc. Once set up, you can add it to the panels on your channel and begin promoting your personal brand merch.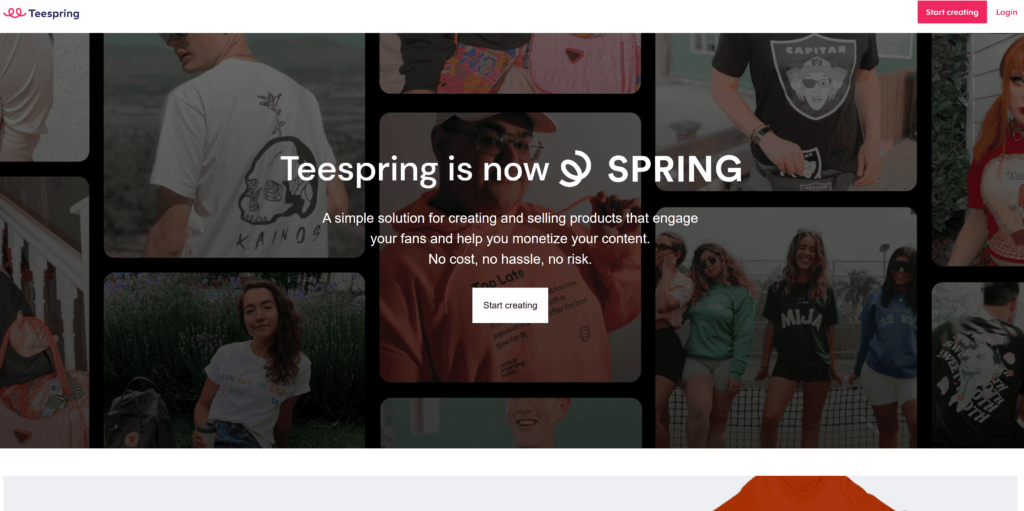 Teespring is an excellent way of providing your viewers branded merchandise without the hassle of working with suppliers and managing shipping to your viewers. Teespring offer a large variety of merch options with healthy profit margins at around £10/$10~ per item for more details see Teespring's profit calculator here.
Positives:
Strong Profit margins of around £10/$10~ per item sold
Large variety of merchandise available
A very popular and personal way among viewer to support their favourite streamers
Negatives:
Time/money investment required to create good looking designs that your audience will buy
Conclusion
There many ways you can utilise to makes money through your Twitch stream. Without a doubt, you should capitalise on as many built in monetisation methods as you can such as becoming a Twitch affiliate (when you qualify) and setting up Amazon Blacksmith. For streamers of all sizes it makes sense to set up donations through StreamLabs and depending on your streaming niche, you may choose more involved monetisation strategy like setting up a merchandise store.